Original Article
 written by 
Kevin Ovenden
 for 
The Guardian
 - Friday 17, January 2012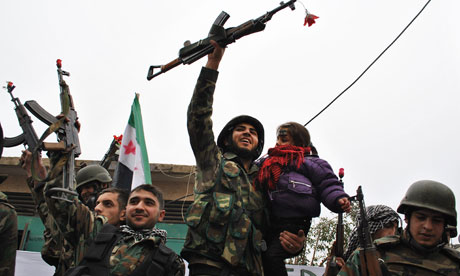 Syrian army defectors join anti-regime protesters in Homs province, January 2012. Photograph: AP
After decades of selling arms to dictators in the Middle East, the west's talk of humanitarian intervention rings hollow
Calls for aggressive intervention in Syria are growing as the country slides further into sectarian civil war. The shrillest are from the Republican right, joined this week by Israel's foreign minister Avigdor Lieberman. The same people are campaigning for confrontation with Iran, threatening a major war. Elliot Abrams, a neoconservative architect of the Iraq disaster, spells out the connection: Syria, he says, provides a "proxy opportunity" to heat up the cold war with Tehran.
Regime change and ensuring that the Arab spring yields only the wizened fruit of governments as accommodating as Saudi Arabia cannot be sold on their own terms. Instead they are wrapped in the rhetoric of humanitarian intervention, tapping the sentiments of those genuinely moved by the suffering in Syria.
We've been here before. The war in Libya was purportedly to save lives. In fact, the killing intensified on all sides, including from Nato bombs. Estimates of the number dead reach 30,000. The outcome is not democracy and human rights.
Amnesty International is the latest NGO
to report the torturing to death of prisoners under the new regime and rival militias. The town of Tawergha, home to 30,000 largely black Africans, has been virtually
wiped off the map
. But the cameras have moved on, just as they did more than a decade ago following Nato's bombardment of Serbia and Kosovo. That, too, was supposed to save